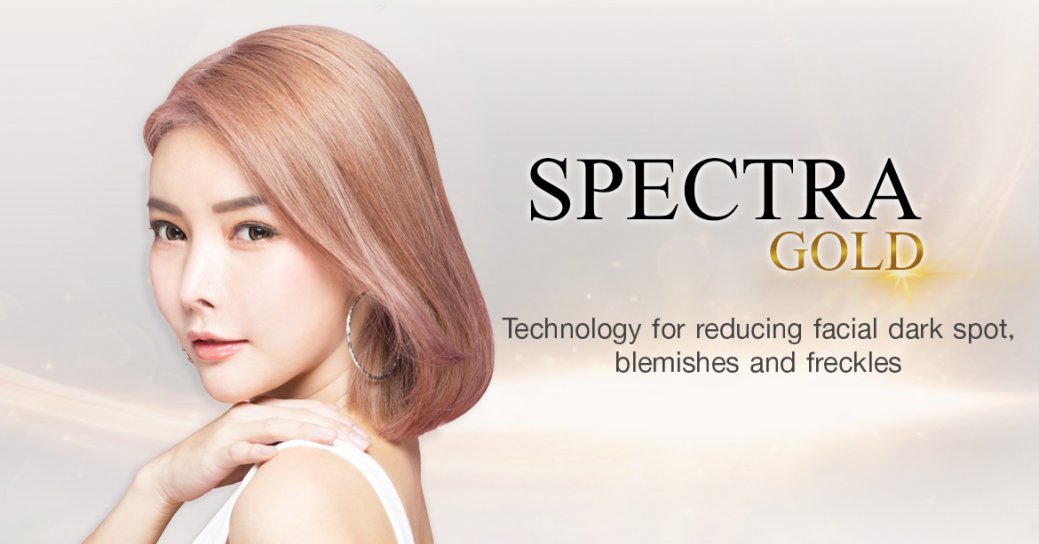 SPECTRA GOLD uses highly concentrated and dense light waves about 10 ns (nano second) which can emit 2 light wavelengths of 1064 nm and 532nm.  SPECTRA GOLD laser will eliminate dark skin pigment and stimulate collagen in the skin layer and tighten skin and pores.
The energy is absorbed by the melanin in the skin. The pigment of the skin then releases heat energy which is causing the melanin in the pigment or ink in tattoos to dissipate into pieces without affecting the neighboring skin.
After white blood cells and color pigment will be degraded by Phagocytosis process (the process which white cells get rid of the pigment destroyed by the laser), therefore abnormal color pigments will slightly fade away.
SPECTRA PROCEDURE MODE
Spectra mode stimulates collagen production to treat small wrinkles.
1064 nm mode helps brighten facial skin, tightening pore, reduce dark skin pigment and cure blemishes.
532 nm mode removes tattoos, freckles and birth marks.
WHAT WILL SPECTRA GOLD TREATMENT HELP?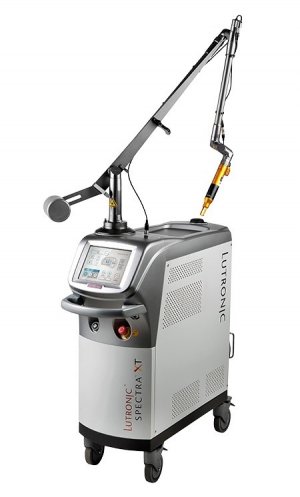 [gem_list type="square"]
Stimulate and generate collagen in skin.
Tightening pore.
Reduce blemishes, freckles and black spot.
Brightening skins, acne scars and reduce small wrinkles.
Pink lips and nipples.
Tattoos, black and red birthmarks.
[/gem_list]
[gem_list type="square"]
Patient(s) will see an effectiveness about 80% on the first treatment. Masterpiece Hospital recommend patient(s) to do the treatment 3-5 sessions continuously for 2-4 weeks for a better result.
[/gem_list]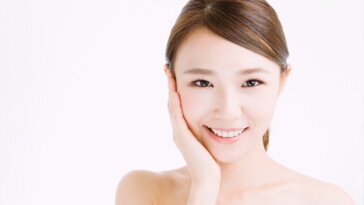 What will you feel during treatment?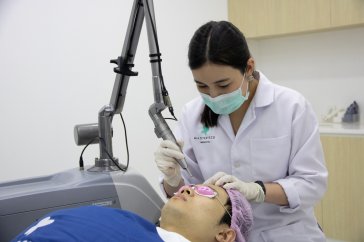 [gem_list type="square"]
During treatment, many patients feel a warm, prickly sensation. Topical anesthetic ointments and cooling are used to reduce unpleasant sensations during treatment.
[/gem_list]
Instruction After Treatment
[gem_list type="square"]
After the treatment, pinkish area on the skin will vanish within 1-2 hours.
Postpone treatments or other laser treatments for 1-2 weeks, frequently or regularly put on moisturizing cream or lotion and sunblock with SPF 50 PA +++ and above to moist and to protect skin.
Avoid direct sunlight exposure for 1-2 weeks. Wear a wide-brimmed hat when exposed to direct sunlight.
No recovering period after the treatment.
[/gem_list]